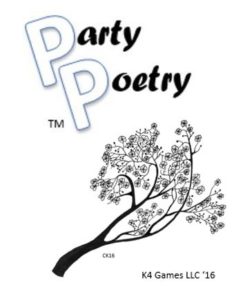 Unpub Previews allow designers the opportunity to talk more in depth about the development of their games in the Unpub Network.
Party Poetry is a cooperative creative poetry writing game designed by Sheri & David Knauth. Imagination has no boundaries when you share the journey toward an amazing (funny/serious) poem!
Let's hear what Sheri has to say about Party Poetry, which will be sweeping the tables soon…
What was your inspiration for the game?
My grandmother and I played a cooperative art game in which we drew an alien-like creature without seeing what the other person was drawing.  We knew that a game would be marvelous with this same theme but with poetry?!  Add a twist of competition for those players who'd like to win and VOILA – you've got "Party Poetry"   A cooperative poetry writing game with 8 types of poems and an endless array of topics (family, after-dark, superhero, foodies, classroom  and more).
What is your favorite part of the game?
My favorite part of the game is revealing the poems once every has made a contribution.  Reading the poems out loud brings laughter, oohs & aahs, and surely some favorites among the poems created during each round.  People want to save the best ones on their phones.
To your knowledge, What do other people find most interesting about the game?
Our many surveys (over 150) have revealed that people like that it's a "simple concept", "creative" and they appreciate "expressing (themselves) on the topic".  We've been told it is "super fun" and that you can have even have "dirty group interactions". People like "creative collaboration".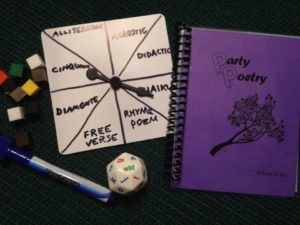 What has been the most challenging part of designing the game?
It is our goal to respect our testers and advance our design through suggestions. The most challenging part of design is to leave the original version behind.  Another challenge has been to ignore those who compare us to other games with dry erase and spiral binding.  There is no comparison… it's a totally different game.
What advice would you give to players attempting the game for the first time?
Sit back, relax and let your silliest or most serious words to shine through as you play.  It's great to be totally anonymous in your line of poetry and then to claim the fame when the poem works out to be fantastic.
What has surprised you most in play-tests of the game?
We're happily surprised that topics which are played frequently still reveal original and marvelous results.
People who like_____will like this game. Why? 
People who like to laugh, to think and getting to know friend & new people will enjoy this game. Whether it is played at a party, with your family, in a classroom or one day on an APP… Party Poetry is for you.  Why? Because Party Poetry offers a good time for a group of people with words, ideas, thoughts, humor and good times.  The results are surprising, fun and yes, poetic.
There you have it – our amazing game ready for testers at UnPub7 in Baltimore!
For more information, photos and to find out where you can try Party Poetry, please visit the game's Unpub.net Page!