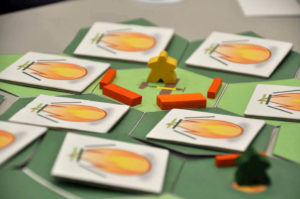 Unpub Previews allow designers the opportunity to talk more in depth about the development of their games in the Unpub Network.
FireBreak is a cooperative game – players must work together to contain an outbreak of raging forest fires. Save as many cabins, airports, lakes, and conservation areas as possible for the highest team score. However, every turn the flames spread, and in which direction is as unpredictable as the wind.
FireBreak has a basic (Campfire) & standard (Smoke Eater)version, with some expert (Inferno) rules for the bravest of rangers.
Let's hear what Charlie has to say about FireBreak, which will be showing up on tables soon…
What was your inspiration for the game?
My younger son thought I should make a cooperative game. I laughed and replied "easier said than done".  It was during the drive  to Unpub3 in Delaware that I had the idea that an unpredictable wind spreading a wildfire could make a great cooperative game.
What is your favorite part of the game?
When you start to contain the flames right after the moment when you think all hope is lost.
To your knowledge, What do other people find most interesting about the game?
The unpredictable wind. The best fire containment strategy can fall apart with an unexpected roll from the dice.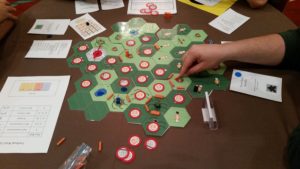 What has been the most challenging part of designing the game?
To find the sweet spot of consistently  neither too easy nor too hard. In competitive games, other players can supply that balance. In a cooperative game, the game itself must be better tuned to consistently offer the players a game that is challenging yet winnable.
What advice would you give to players attempting the game for the first time?
Protect the airports, protect the wildlife areas.  I have seen games lost because players underestimated the value of keeping the flames out of those spaces.
What has surprised you most in play-tests of the game?
Repeat play testers never tire of the game. The game has a small loyal fan club eager to play again at any event where this game goes on the table. My favorite blind play tester logged over 200 solo plays as we experimented with rule variations to get the game just right. Yet he was always eager to play the next game.
People who like_____will like this game. Why?
I'll answer Forbidden Island or Forbidden Desert.  Designer Nat Levan (New Bedford) described Firebreak as Pandemic for families.  It is a game easily taught to casual gamers and families. Yet there are enough choices to make you second guess whether your team made the right moves, and you will get burned for bad decisions.  
Tell us anything else you want to say about your game that I haven't asked or you haven't said already.
It has been a frustrating road with this one. I was elated to find  a publisher for this game a few months after Unpub4. And equally disappointed when that publisher backed out of the contract two years later. However, it game me to go back and make some changes to the original design. In hindsight, I am convinced that Firebreak version 2 is an even better game than the game that I thought would have already been published by now.
For more information, photos and to find out where you can try FireBreak, please visit the game's Unpub.net Page!