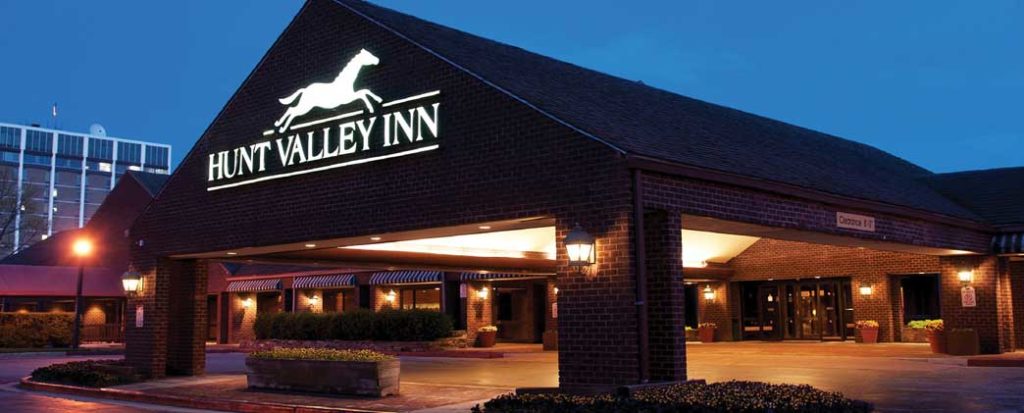 **NOTE: We are aware you are currently unable to book the rooms online, please call them at the number and group code at the bottom of this page to book your room(s) until the hotel enables online registration. We apologize for the inconvenience.
The Delta Hotels Hunt Valley location is really a one stop shop for Unpub. Not only do we have our own private and well-laid out space, which will save us from the Health Insurance Info Sessions and Cheerleading Competitions of the past, but it, well, let us just share a few of the highlights that sold us on the place.
Parking: The hotel offers 900 free parking spots with a spillover lot if needed right next to the light rail – oh yeah, selling point #2, the light rail.
Light Rail: It was between 25-30 minutes from BWI to the Convention Center, then another 15 minute walk to hotels. Now it's a 75-80 minute ride but a far less walk! For all of the schedules for the Light Rail on both weekdays and weekends, please follow this link to the Maryland Transit Authority: https://mta.maryland.gov/light-rail
Meeting Space: The ballroom is ours to play and outside it is surrounded by our vendors and sponsors. We will have a real coat check for designers, VIP guests, publishers, and vendors. We have private rooms for panels. Once we set up for the con we will be able to rock and roll, no more setting up Friday evening or early Saturday morning. Everything will be set up as of Friday morning.
Food Options: Less than a mile walk from the hotel or a shuttle ride away, yes there is a free shuttle, is the Hunt Valley Towne Center. It holds all of the staples of a mall, a movie theater, plenty of food choices, and more. https://www.shophuntvalley.com/ There also are several restaurants within walking distance such as Texas Roadhouse, Carrabba's Italian Grill, California Pizza Kitchen, and Outback Steakhouse. The Delta Hotel offers two casual restaurant featuring American Cuisine, the Polo Lounge & Bar and Cafe 245.
Lodging: As this is considered to be a hotel and convention center, there are plenty of rooms and then some for anyone and his or her Uncle! Hotel room blocks are available for $129.00 a night plus tax. Double and single bed rooms are available on a first come first serve basis. When reserving your room, please make sure to use the code: UG1. As of right now, you only may reserve via phone, but the code on the Marriott.com reservation page will be up and running shortly.
Delta Hotels Baltimore Hunt Valley
245 Shawan Road, Hunt Valley, MD, 21031
(410) 785-7000
Check out the Delta Hotel's detailed website for more information!