Psycho-Kinetic: Ancient Wars
Designed by:

Saeed Ali
Players:

2 - 4
Ages:

13+
Time:

20 min.
Files:

-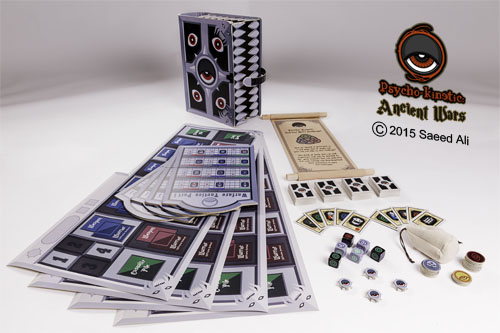 Psycho-Kinetic: Ancient Wars is a Strategy Duel Card Game that combines the battle tactics of a card game and the strategic actions of a board game, taking its Inspiration from the Medieval Fantasy or the Sword & Sorcery Genre of video games especially the old school classics.
The game is set in an era of an Ancient Civilization that has been waging wars using their powerful and vicious magical weapons, while players assume the role of an army commander engaging in deadly skirmishes with their opponents as they manage their resources, revise their strategies, adapt to the misfortunes and lead their army legions in the heat of battle to victory!

Feedback Averages
The below numbers are the average scores, rated by the feedback forms collected.