Poltergeists
Designed by:

Ken Lewis
Players:

2 - 2
Ages:

8+
Time:

30 minutes
Files:

-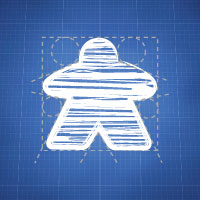 You don't remember when or how you died, but you do remember the house you are haunting belongs to you, and you will stop at nothing to keep it that way.
Up until recently you have always been successful at driving away anyone foolish enough to move in, but now a new tenant has shown up.
Someone has decided your house has just the right atmosphere to suit their purposes and they aren't looking to be roommates.
Now you have to defend your home against your greatest challenge yet, another poltergeist.
Poltergeists is a guessing game where each player secretly moves their poltergeist around the room while flinging furniture tiles in the hopes of disrupting their opponent.
First player to disrupt their opponent 3 times wins the room battle, first player to win 2 room battles wins the game.