Affray
Designed by:

Marshall Parsons
Players:

2 - 4
Ages:

8+
Time:

20-40min
Files:

-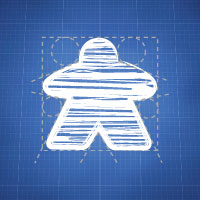 Affray (working title) is a very simple abstract strategy game in the same vein as chess or go.
You move your tiles across a hex board striking your opponent's tiles, removing them from the board. Once you have removed 10 tiles, you win! There is a catch in how you can move and strike though, that you'll have to play to find out.

Affray is very much suited to optional "game types", and a few are in development by myself. That being said, I encourage people to come up with their own and play the game they want to play with the tools provided!