A La Kart
Designed by:

Daniel Solis
Players:

2 - 6
Ages:

10+
Time:

20 Minutes
Files:

-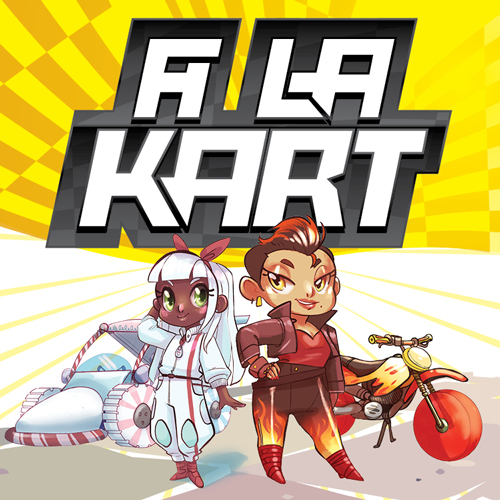 A La Kart is a fast-paced racing-themed expandable microgame inspired by Mario Kart and Wreck-it Ralph. Players choose a preconstructed racer deck, each with unique combos and clever synergy.

* Sugar vs. Spice! A sweet and steady engine-builder against a fiery speedster tearing up the road.

* Mac vs. Cheese! The clever mechanic's synergy faces off with the course architect literally changing the terrain.

* Fish vs. Chips! The resourceful opportunist, who always has an ace up his sleeve, collides with the aggressive wrecker.


The race circuit is randomly constructed each time you play, with its own food-themed hazards and scoring opportunities.

* Sundae Speedway! Collect vanilla, chocolate, and strawberry sets to score points, with bonuses if you have majority in either flavor.

* Marinara Trench! Collect pasta and sauce to score points, but lose points for each unpaired pasta or sauce.

* Autobun! Build the best sandwich by gathering as many different foods as you can, but only score points if you also have at least one slice of bread.


Each set can be played as a two player game or combined for up to six-player racing action. With a very simple system for customizing your own deck, the replay opportunities can get very deep.

Are you hungry for victory? Come play A La Kart!
Feedback Averages
The below numbers are the average scores, rated by the feedback forms collected.