Scouts
Designed by:

Stephen B Davies
Players:

2 - 5
Ages:

10+
Time:

Scouts
Files:

-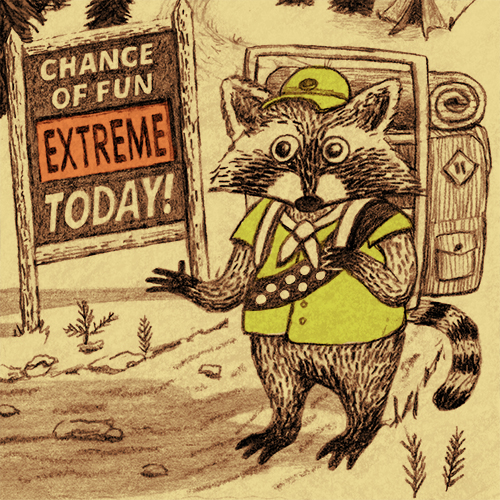 Welcome campers! Does the idea of exploring uncharted areas, sleeping in crude canvas tents, and waking up with bugs in your clothes sound like a fun time? Well I sure hope it does, because your parents just drove away and won't be back for 2 weeks.

You may be lowly Tenderpaws now, but over the coming days you're going to learn some essential outdoor skills, earn merit patches, rank up, and grow into some very capable critters. Are you going to help the scouts by blazing trails for future generations? Will you be the first to conquer every adventure the great outdoors has to offer? Or will you go on to earn the exalted rank of Raccoon? The decision is yours! Grab your pack, pocketknife, some GORP, and let's get going. Happy trails!

Scouts is a pick-up and deliver and hand management game for 2-5 players. Those who like route building and light area control games such as Ticket to Ride will find some similarities and things to like here, although it offers more possibilities for engine building. Play typically takes an hour.