Existential Saturday
Designed by:

Brian Thomas
Players:

2 - 6
Ages:

10+
Time:

1-2 hours
Files:

-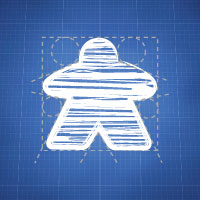 It's Saturday. Jack and Jill's neighborhood is about to become an odd, dangerous place that few will survive. But the real problem is that everyone's in a state of
existential crisis! An alien ship has landed, a mad scientist is scheming, a government agent is watching everyone, and a Future Jack has stepped through a portal to alter the course of events. I don't know what he's worried about. It's not like zombies are going to take over the world. With this clash of characters each striving for a goal that's constantly changing, no one knows who will win or what might happen.

Players draw individual, secret objectives that determine how they win the game. You might be looking for items, waiting for certain events to come about, or taking extreme maters into your own hands. Within the game there are opportunities to change your endgame or even frustrate your opponents' efforts. There are a variety of actions you may take on your turn (roll the dice to move, draw/play cards, attack, etc), giving the game an openness and high replay potential. You can be violent or peaceful, lucky or clever, build alliances or take on everyone. There's the chance to play the kind of game you want to play. Suspicion, odd events, forced player interactions, and colorful characters allow for tight thematic gameplay and a near party game experience.