Masters of Disguise
Published by:

www.yodeogames.com
Designed by:

Ian Reed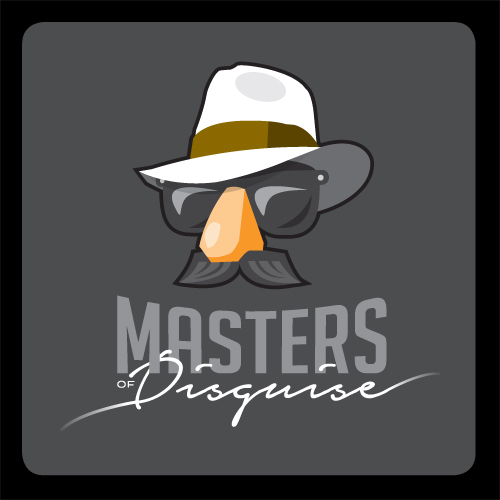 In Masters of Disguise, players are spies collecting different Spy Gear to add to their Spy Set, while trying to discover the identity of their opponents. Each spy's set of Spy Gear cards can score points for that spy, but it can also elude to that spy's true identity! Once you think you know the Identity of another spy, you can make a guess to potentially unmask that spy...but look out, unmasked spies can fight back!
At the beginning of each round, players are given a secret Spy ID card that lets that player know which five Spy Gear cards (of 12 different Spy Gear cards) they are able to score with.

Each turn, spies draw a card from the Spy Gear deck, then play a card to their face-up Spy Set. Once they have added a new card to their Spy set, they must do one of three things:
• Swap any card in their Spy Set for any card in another's set.
• Destroy one of their own Spy Gear cards from their set to use it's ability.
(This can be asking other spies questions, or increasing their own score.)
• Guess the Identity of another spy.
(Add points to your total for correct guesses, and subtract points if incorrect)

If you are incorrect with your guess, you do not eliminate yourself.
If you are discovered, you are considered "unmasked".

Unlike many other elimination games, Masters of disguise doesn't REALLY eliminate players. Unmasked spies can still swap spy gear cards around the table, and make guesses on other spies, so unmasked spies are still engaged throughout each round.

The player with the least total points between rounds will be the first player of each new round.

Rounds end when there is one undiscovered spy remaining.
The player with the most points at the end of three rounds is the Master of Disguise!
Feedback Averages
The below numbers are the average scores, rated by the feedback forms collected.