Chom Chom
Designed by:

Adam Fischer
Players:

2 - 4
Ages:

6+
Time:

15 minutes
Files:

-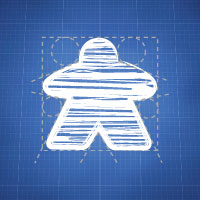 In this cooperative game, each player is a farmer trying to plant crops. If any one farmer plants all five of her crops, all of the farmers win.
The Chom Chom is hungry though. He eats crops and converts farmers to mini Chom Choms who also like to eat crops.
In this unique game with several levels of challenge, everyone wins - either as a farmer, or as a Chom Chom!