Leaf
Designed by:

Tim Eisner
Players:

2 - 4
Ages:

8+
Time:

45 Minutes
Files:

-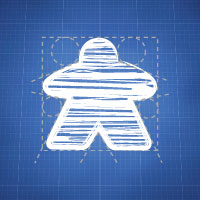 Leaf is a tile placement game where players add leaf shapes to the central play area, the
Forest Floor. Each leaf is placed by connecting it to the point of at least one other leaf. All
leaves want to be placed with as many of their points connected to allow maximum
placement of tokens and each leaf needs a specific pattern of other leaves touching its
points to meet its scoring condition. Once a leaf's scoring condition has been met, the
player with the most nutrient tokens gains the matching Insect, and the nutrient tokens
on that leaf are moved to the Trunk, where bonus Insects can be acquired.