Downfall
Designed by:

John Clair
Players:

3 - 6
Ages:

12+
Time:

2 hours
Files:

-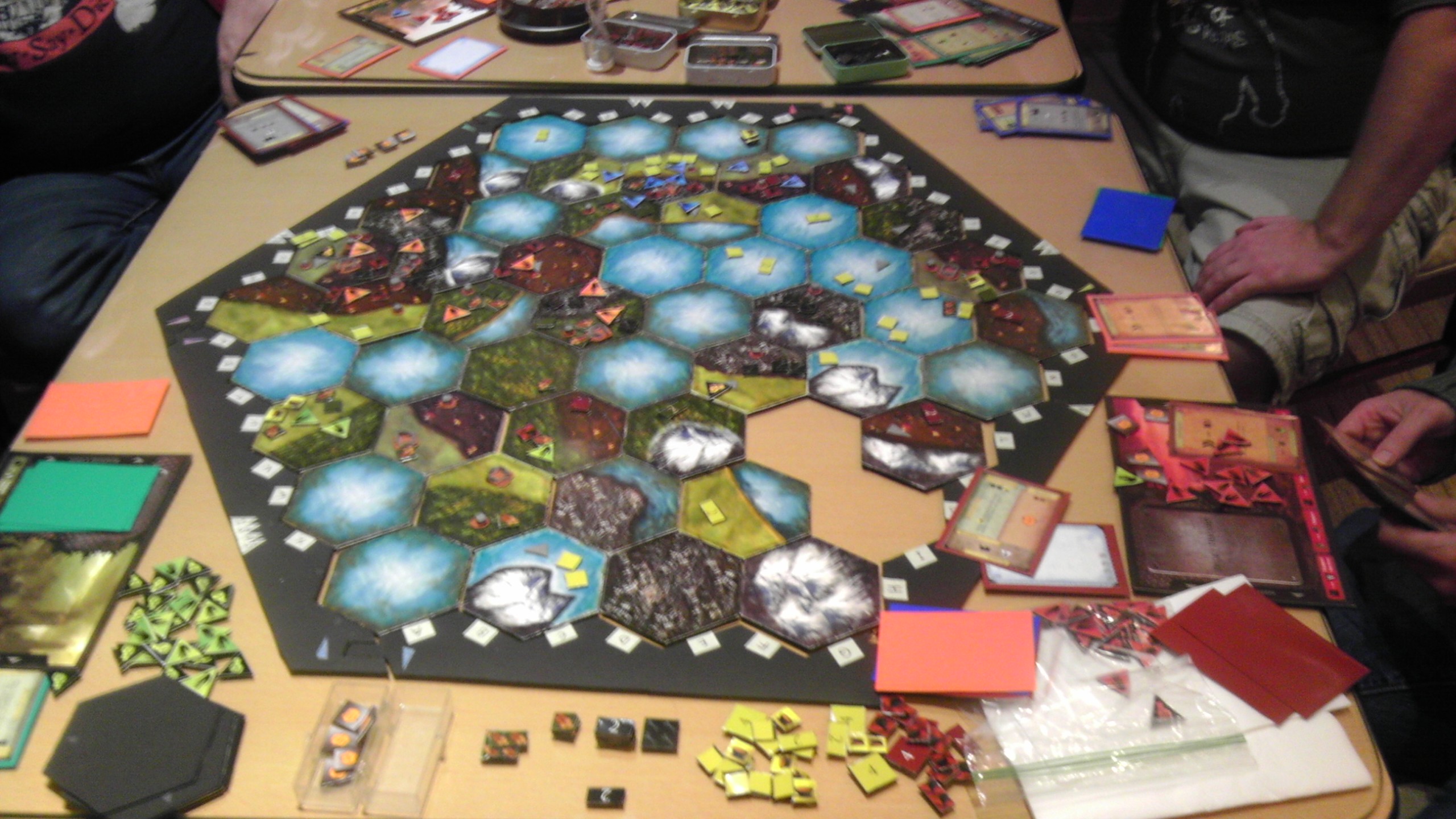 •Theme: Post-Apocalypse, the game is set in a dystopian future on an earth-like planet in a distant solar system. Players control tribal entities—all that is left of the once lush and populated planet, now polluted and ravaged by nuclear war. Players will face challenges of limited and dwindling resources, harsh winters, and spreading radiation. Set on a modular, unexplored board, players will try to lead their tribe through the brutal nuclear winter.
•Unique Core-Mechanic: Downfall employs a simultaneous action mechanic that I call 'Action Drafting.' The basics are as follows: Each player has a hand of cards, and each card represents an action that his tribe of survivors can take, such as collecting resources, moving people, building, or discovering a new technology, etc. Each player chooses a card places it face-down in front of him and pass the remaining cards to the left. When all players have done so, cards are reveals and the actions completed. The process is then repeated. Feels sort of like 7 Wonders, but since the game plays on a board and the card represent actions not items, it functions entirely differently. It also means a fast pace to the game and limited down time.
•Finite and Conquerable resources: All resources, collected and uncollected, are on the board, and raw resources will run out, forcing expansion and conflict as local resources dry up and stockpiles become vulnerable. The early game is generally peaceful, but the last few turns can be very tense and brutal.
•Winter Mechanic: Winter is harsh on the ruined moon, and can come unexpectedly. Players can see events such as "Food Allocation" or "Nuclear Fallout" approaching, but don't know exactly when they will occur. Players can try to plan diligently or take big risks that could offer big rewards.
•In Summary: three words oft-repeated by play-testers are "Fun", "Challenging", and "Unique." The game is a thematically rich and particularly brutal civ game that plays at a rapid pace because of the nature of the drafting mechanic, and offers a unique game experience. It's a "big" game with a lot of pieces and non-stop tough choices, but fits in a 2 hour time slot.