Turf Wars
Designed by:

Phil Cartagena & Josh DeGregorio
Players:

2 - 6
Ages:

12+
Time:

45 - 75 Minutes
Files:

RULES -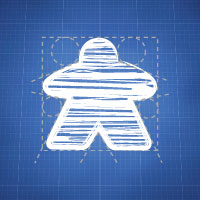 Turf Wars is a 2-6 player game of strategic fantasy conquest with a humorous and campy edge. Players choose 1 of 20 Factions (such as zombies, unicorns, dryads, etc.) and vie for control of their home turfs (swamps, deserts, seas, etc.).

There are several ways to win Turf Wars, ensuring that no game is ever the same:
- Eliminate a nemesis,
- Achieve a Secret Win condition,
- Control all of your Factionís Home Turfs, or
- Win through sheer dominance (points).