Pizza Chef
Designed by:

Brian Brazil
Players:

2 - 4
Ages:

7+
Time:

10-20 mins
Files:

-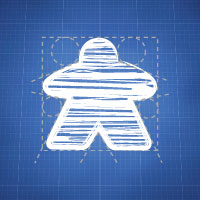 It's your first day at a very disorganized pizza joint. As the orders keep flooding in, can you fulfill them faster than your coworkers? Will your coworkers thwart your efforts, making you complete other orders first? Will the customers get tired of waiting and leave?

At the end of the night, there can be only one Pizza Chef. Will you be it?

Pizza Chef is a pizza-making card game for 2-4 players where each player rushes to complete pizza orders before their opponents. As the orders come in, new orders may obscure older orders. And as time starts to run out, angry customers rescind their orders.

Players draw cards from the ingredient deck and attempt to fill orders revealed from the orders deck, but every turn brings a new order. If there are too many orders, new orders obscure other orders and must be completed first. When the orders deck runs out, customers start rescinding old orders. Then there are no more orders left to fulfill, players total up their points from orders (pizzas have different point values based on number and rarity of ingredients) and the player with the most points wins.
Feedback Averages
The below numbers are the average scores, rated by the feedback forms collected.