Action News Team: 12 Hour Cycle
Designed by:

Patrick Marino, Jim DiCamillo
Players:

2 - 4
Ages:

12+
Time:

60-90
Files:

-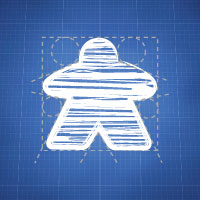 Local news teams are in a frantic race for ratings as they gather stories, sell commercial airtime, and prepare broadcasts for morning, noon, evening and night.
Time is a critical resource to manage in this game. In odd numbered rounds news teams scour the city for the most interesting news stories. During the even numbered broadcast rounds players organize their stories into a tight 60 minute broadcast; being sure to include enough commercials to earn money for station upgrades, without putting in so many that ratings drop. A combination of euro style resource management and a spatial puzzle.
Feedback Averages
The below numbers are the average scores, rated by the feedback forms collected.