Invasion Evasion
Designed by:

Scatterbrained Creations
Players:

4 - 15
Ages:

12+
Time:

15-30 minutes
Files:

- PnP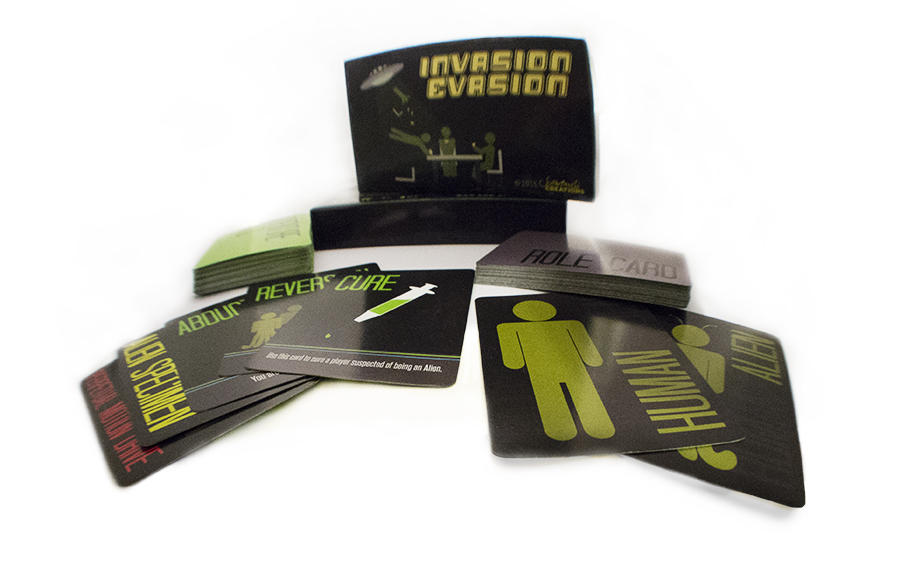 Invasion Evasion is a party game that pits players against each other to save or destroy the Earth!

The invasion has begun! Flying saucers are abducting innocent people off the streets and returning them corrupted and changed. It has become impossible to tell apart harmless civilians from vile alien scum.
Deep inside of an underground bunker is a team of humans trying desperately to stop the attacks. They have developed a cure to the alien parasite to transform humans back to normal, but are unable to mass produce it. As they try to gather the supplies necessary to save the planet, it becomes clear that some among them cannot be trusted… and have more nefarious plans in mind.
Each player receives a secret role and either works with the Humans to mass produce a cure or joins the Aliens
in the construction of a Doomsday Device. The fate of the world hangs in the balance.