Monster Pageant
Designed by:

James Thorne
Players:

2 - 6
Ages:

8+
Time:

20 min
Files:

-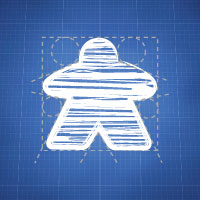 Create monsters to enter into a monster pageant. The pageant judges are all looking for different things so make sure you prepare for judging as best you can!

The game is played using a school-yard pick where you create monsters by selecting cards that combine the different parts of a monster. Choose the legs & tails / torsos & arms / head combination that you think will "wow" the judges.

But just like every pageant, you can try to play foul to get ahead. Players have chances to "cheat" and gain an advantage over their competition. Strategy and tactics come into play as you choose the right time and place for your devious deeds.

Players choose from a shared supply where 5 of each type of monster body part is available. As cards are selected they are removed from the supply. Once removed cards form a gap of 2 or more, these gaps are refilled from the respective decks of body parts. Players select enough cards to each put forward 3 contestants into the pageant, one for each of the three judging rounds. Each monster will have an overall value made up from the traits represented on each body part, for example: hairy legs (value 2) + spikey torso (value 3), and a head that's a little slimy (value 1) and a little hairy (value 1). Judges will give merit points to each monster based on their bias, and each judge is only interested in one trait. The first judging round is scored by one judge, two judges score the second round, and three judges score the third and final round.

The best monster in each judging round earns a player 3 points, with runners-up taking 2 points, good-looking losers earning 1 point, and everyone else 0 points!

Each player starts the game with 3 cheat tokens. These tokens can be spent during the pick phase to either: A) choose three cards on your turn instead of one, B) clear an entire row of cards, draw five more and then pick one, C) or take a peek at one of the judging cards to get information about what criteria will earns points during judging.

Any cheat tokens not spent during the picking phase are kept to the end of the game and earn the player an additional point towards their final score.

The player with the highest score at the end of the three judging rounds is the winner!