Mill City
Designed by:

Eric Alvarado
Players:

2 - 2
Ages:

8+
Time:

30
Files:

-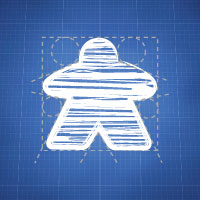 It's 1880 and Minneapolis is called "Mill City" for leading the nation in flour production due to its ideal location near the St. Anthony's falls at the northern end of the mighty Mississippi River, and close proximity to the plains growing the grain.

In Mill City, players are responsible for constructing flour mills in order to process grain into flour. Players then ship the flour via steam rails to distribution centers in the mid-west. However, the mills are highly dependent on the St. Anthony's fall in order to generate the necessary water power to mill the grain into flour. This is represented by the river dice that represent the available water power during a given round.

Each round, the available water power is determined by rolling four d6 river dice. From this roll, player use dual-purpose cards to either build mills or ship the flour they produce via steam rail during the Shipping phase. Be careful though, players who ship inefficiently (aka leave flour in their mills) are penalized. The player who successfully balance production and shipping based on the available water power and shipping capacity will win.