On the Crab
Designed by:

Eric Alvarado
Players:

2 - 4
Ages:

10+
Time:

90-120
Files:

-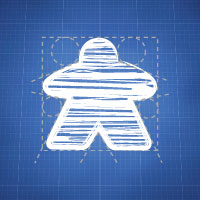 The Bering Sea... home to Alaskan Crab. Players manage the crew onboard a crab fishing vessel in search of this valuable delicacy in the Bering Sea. Once over a crab fishing ground, the crew sets crab pots with the hopes of scoring a large catch. After some time soaking in the cold icy waters, the crew returns to retrieve their crab pots. Will the crab pots be chock full of crab or will they be empty?

Unfortunately, fishing for crab isn't just about setting and retrieving crab pots. The crew must repair breakdowns caused by storms that wreak havoc to the crab vessel systems and even it's precious cargo. From the North, an ice pack creeps down and invades the crab fishing ground. Drifting in the sea are ice flows that wreak havoc on crab pots. As the season progresses, the temperature drops causing crab vessel systems to fail if too far North, and the value for crab slowly drops challenging the crew to work hard to quickly fish the crab grounds.

Finally, after the crab fishing season is over, each player determines who is the most profitable and has earned the bragging rights for the season.

Will you be "On the Crab"?