Unpub 7
Date/Time
Date(s) - Friday, March 17, 2017 - Sunday, March 19, 2017
12:00 am
Location
Baltimore Convention Center
Categories
March 17-19, 2017, we will host our seventh annual Unpublished Games Festival (Unpub 7) at the Baltimore Convention Center in Baltimore, Maryland. Unpub 6 was attended by over 1,800 people and Unpub 7 is expected to nearly double this number. With over 120 game designers, a special guest (Zev Shlasinger), more vendors, and more play testers we are estimating a public attendance of over 2,000 people. In the past 6 years, Unpub has moved from a small community meeting hall in Dover, Delaware to a 16,000+ sq. ft. space in the Baltimore Convention Center.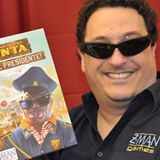 Zev Shlasinger. Unpub is proud to announce that Zev Shlasinger is Unpub 7's VIP Guest. Zev founded Z-Man Games in 1999 and became one of the premiere board game publishers. Some of the titles that were published by Z-Man include: Pandemic, Agricola, Fairy Tale, Archeology, Merchants and Marauders, Tales of the Arabian Nights, Prophecy, 1960: The Making of the President, a whole slew of other games ranging from simple card games like No Thanks to really heavy games like Earth Reborn.
In 2011 he sold his company, but still worked for Z-Man acquiring and developing games.
Four and a half years later he parted ways with Z-Man and is now the Director of Board Games at Wizkids. His job is to build up their board game catalog and he is using the same philosophy he had at Z-Man: publishing good, fun, unique, cool games. Currently four games have already been published: Rock Paper Wizard, Burke's Gambit, Blank White Dice, and Dice Stars.
He is always looking for great games so feel free to email him, or use the prototype submission form on the Wizkids website, or meet up with him at a con.
Hotels. You can book your Unpub 7 hotel at the Days Inn Inner Harbor in Baltimore, MD at a special Unpub rate of $119/night. Please book BEFORE February 26, 2017 under the name UNPUB 2017. To book, please call: (410) 576-1000\
More information will be coming soon- including a web site with all of this information and attending games listing.