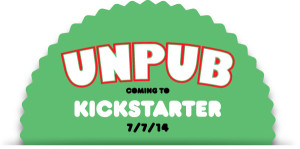 A change in zip code and venue are not the only big things on the horizon for the Unpub Organization. In an effort to fund this growing and beneficial program, a Kickstarter campaign will be launched to hopefully help raise funds for Unpub 5.
Many people know that Unpub has traditionally been funded, in part, by sales of tables at previous Unpub functions and sponsorships by various businesses or publishers, but the large majority of the expense comes from out of the personal pockets of those running the event. Moving to a larger venue increases the opportunity for more playtesters, designers, and publisher participation from the proximity to Baltimore, Washington DC, and BWI International Airport. With a great location also comes the great responsibility of ensuring that the event venue is completely taken care of for our designers and playtesters.
In an attempt to help Unpub break even, the main goal is to fund Unpub 5 and to pay for the venue, but also to include a secondary goal to help fund Unpub appearances at major cons such as PAX, BGG Con, GenCon, GrandCon, and more. The main goal of Unpub is to ensure designers receive our support, but many of the invitations to these major cons were regretfully declined due to a lack of funds to send an Unpub representative or designer there. Unpub's goal is to make sure our designers are at the forefront of these cons by ensuring the presence of the Unpub organization in order to run a smooth event.
For many of you, the most important announcement is that Designer Tables will be sold during this campaign for Unpub 5. We have more tables available this year, but they are still limited. And if it's anything like the year previous, these tables will sell quickly. And we want to make sure everyone has a good chance to snag a table this year, so mark your calendars.
The KickStarter campaign will go live on Monday July 7th at noon (12pm EST).
Special additional rewards for backers will include VIP Playtester status (for a select few to attend on Friday to join designers & publishers for the Designer Only Day & Dinner), t-shirts, published games from Unpub alumni, and more. We also welcomeany suggestions or donations of time, product, or energy that could be included to make this KickStarter a success.
More details about how YOU can become involved in this much-needed drive for funding will be released in the coming days. For now, stay tuned to Unpub.net and check your email box for new developments!